By: K. Rad Payman on September 12, 2014
Dr. Rad Payman and his team at Advanced Spine Institute specialize in minimally invasive outpatient spine surgery. He trained at some of the best institutions in the country, including the Johns Hopkins University School of Medicine, one of the nation's top medical schools. He received additional training in orthopaedic surgery at UCLA and completed a prestigious spine fellowship at the University Hospitals of Cleveland.
Why choose Advanced Spine Institute?
"We maintain a close relationship with every patient at Advanced Spine Institute—new or returning—and make it a priority to ensure that patients have a warm and friendly experience. All questions are answered, and patients are encouraged to keep in touch directly with me."
Why is minimally invasive surgery a better option?
"Traditional open surgeries that required multiple hospital stay days can now be performed with smaller incisions, and the patient is home within a few hours of surgery. Minimally invasive surgery means less pain and a quick recovery."
"Minimally Invasive Surgery means less pain and a quick recovery."
What would you like potential patients to know about you?
"I am very selective about recommending surgery. Surgery is not required on the majority of our patients. Many need conservative, non-surgical treatments like activity modification and physical therapy, chiropractic care or acupuncture. If these do not improve the patients' symptoms, interventional pain management can be attempted to improve the symptoms with injection therapy. Surgery is considered the last option and will only be recommended if someone has failed all attempts at conservative, non-surgical care."
How do you distinguish yourself from the competition?
"What sets us apart is our friendly staff and comfortable office environment. We are available for patients 24 hours a day and can be reached at anytime. We address concerns/issues immediately, and patient satisfaction is our #1 priority—as shown by our awards, including the Patients' Choice Award and the Most Compassionate Doctor Award in 2012 and 2013 by Vitals."
How do you give back to your community?
"Once per year, I travel to countries that have limited access to health care—Dominican Republic, Tanzania and Mexico—and volunteer my services. This includes performing surgeries and evaluating patients, both young and old."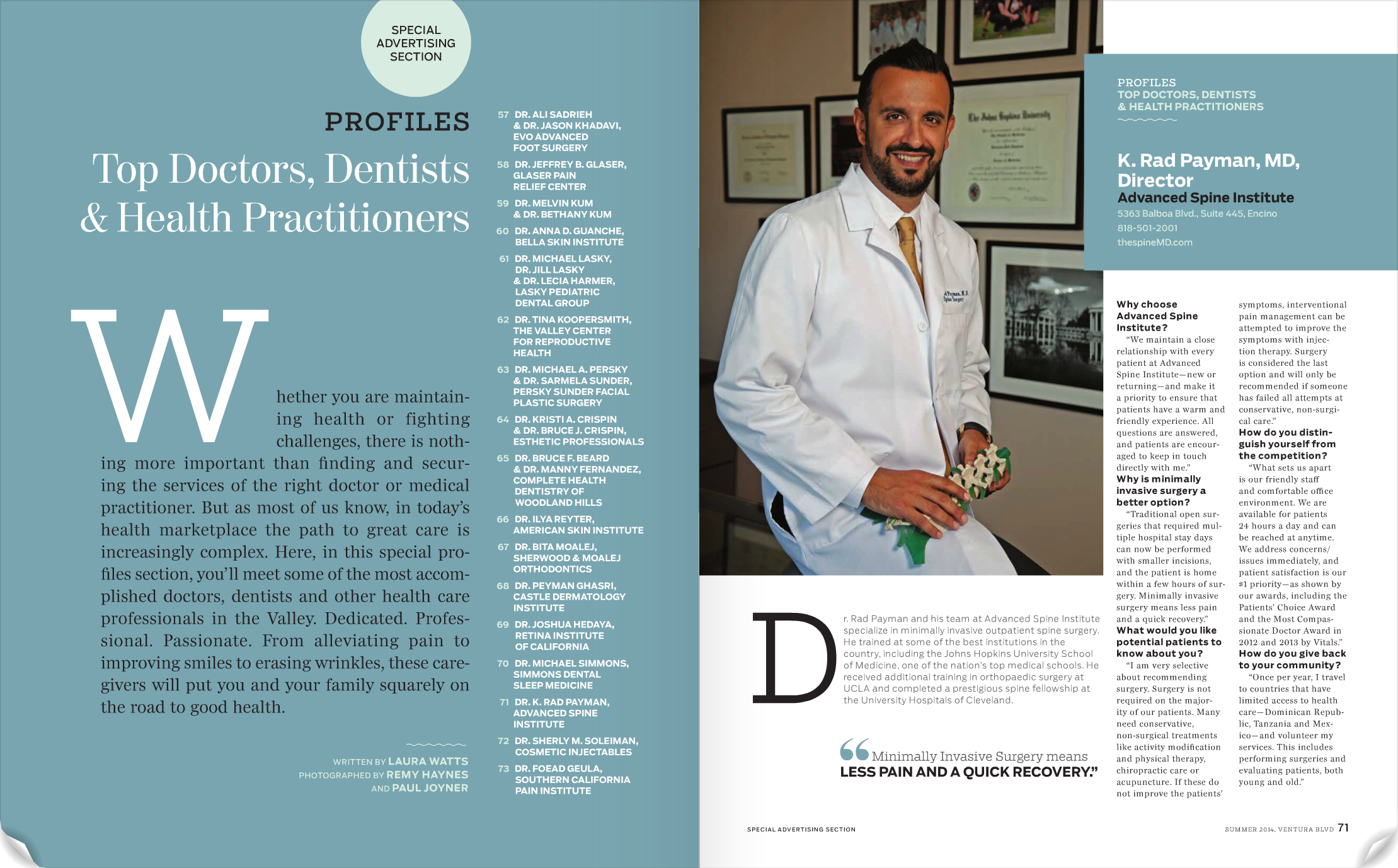 For an appointment or consultation with Dr. K. Rad Payman, please